¿Quieres contactar con tu asesor comercial?
Temporarily it is not available, but you can send an email
I am a distributor and I want to contact a sales advisor.
---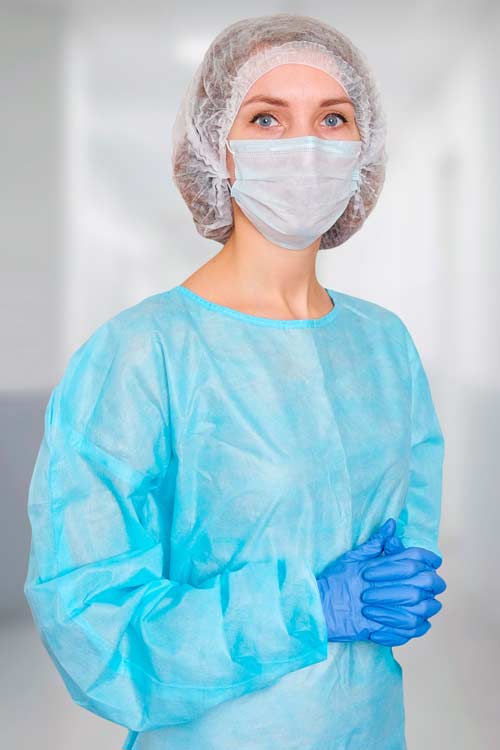 Disposable gowns in various sectors
Disposable gowns are an essential item of clothing in various sectors such as health care, beauty care, the food industry, laboratories and even the education sector, in order to guarantee safety and hygiene.
As this is a single-use item, it is advisable not to use gowns more than once, as improper use will impair the functions for which they were manufactured. In addition, when putting on a gown, the user should take special care not to stretch the product more than it allows, as this could tear the fabric or the elastics.
Material of disposable gowns
When looking for a single-use gown, it is important to know that the material they are made of plays a key role. We can find gowns in up to 4 different fabrics:
Polyethylene.
Polyethylene, although commonly known as plastic, is more specifically a polymer that stands out for its impermeability. This is why it is recommended to use gowns made of this fabric in humid work environments or those tasks involving contact with liquids. These disposable gowns are frequently used in laboratories, chemical industries and in the food industry.
Non-Woven Fabric (NWF).
Non-woven fabric is a material produced by forming a net with fibres joined by different procedures, but without being woven and without it being necessary to convert the fibres of the material into thread. The use of these gowns is indicated in different areas such as industry, visits to sterilised areas, food factories or areas sensitive to contamination. However, they are also commonly used by patients in the healthcare sector or by clients in the beauty and hairdressing sector.
Non-Woven Fabric (NWF) Polypropylene.
The material used here is a basic fabric of mechanically interwoven polypropylene fibres. Disposable gowns made of this material protect the user and his clothing from soiling by solids and liquids while preventing the user from contaminating the products with which he works. It is commonly used in Laboratories and Food Industries and Workshops; as well as in Hospitals, Beauty and Cosmetic Centres and Hairdressing Salons.
SMS Non-Woven Fabric (NWF).
It is a fibre fabric composed of three layers: a layer of Meltblown fixed between two layers of Spunbond. It is a strong and durable material, and disposable gowns made from it serve as a barrier between the wearer and his or her clothing with different fluids and particles. In addition, it is an antistatic material, which does not mildew, and is breathable, lightweight and resistant to tears and punctures.