¿Quieres contactar con tu asesor comercial?
Temporarily it is not available, but you can send an email
I am a distributor and I want to contact a sales advisor.
---
For short use, prevents stains on clothes. For use in industry, painters, industrial hygiene.
Waterproof, prevents stains on clothes. For use in industry, painters, industrial hygiene.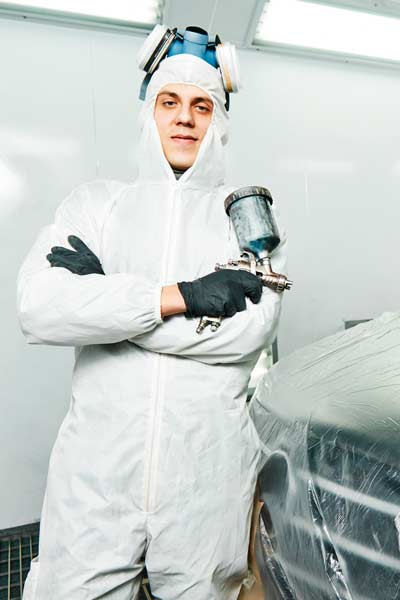 How disposable coveralls can be used
Disposable coveralls are not only an ideal solution when the performance of a job requires certain hygiene measures to be respected, but they are also a good alternative to regular coveralls, the protective clothing required for specific activities where the possible risk of cross-contamination requires their use.
Disposable coveralls are intended for use in industry, for industrial hygiene and for sectors such as painting. Thus, in general, coveralls serve as a protective measure in those jobs where the handling of toxic substances or flammable products is very high.
These are the situations in which it is always not only recommended but also necessary to wear protective coveralls. Thanks to the use of these products, workers will avoid possible cuts, burns, exposure to certain substances or contact with agents that may damage their skin, as well as contaminating whatever they are handling with possible particles that may be contained in their clothes.
Of course, as they are disposable coveralls, it is recommended to use them only once. This is because prolonged use or more than a single use would minimise the functions for which they have been manufactured, and this would mean endangering the worker. It is also important to bear in mind that, when putting on the coverall, care should be taken not to stretch it more than the product allows, as there is a risk of tearing the fabric.
Types of disposable coveralls
There are several types of disposable coveralls depending on their materials, for example:
Hooded coverall in UNIBASIC Polypropylene NWF with zip closure.
This coverall is not only disposable, but is intended for short-term use. The material used for its manufacture is Polypropylene Non-Woven Fabric, and provides protection against soiling by solids.
Polypropylene NWF hooded coverall with zip fastening.
In this case, the material used to manufacture this coverall is Polypropylene TNT, and offers protection against soiling by solids, as well as preventing cross-contamination.
Plasticised Polypropylene NWF hooded coverall with zip closure.
This single-use coverall is made of Plasticised Non-Woven Polypropylene, which makes the product waterproof. In this way, it protects its function of protecting the wearer and his clothing not only against dirt caused by solids, but also by liquids.