¿Quieres contactar con tu asesor comercial?
Temporarily it is not available, but you can send an email
I am a distributor and I want to contact a sales advisor.
---
For hair treatments in hairdressing and beauty salons
For use in hairdressing salons, with straps for a good fit.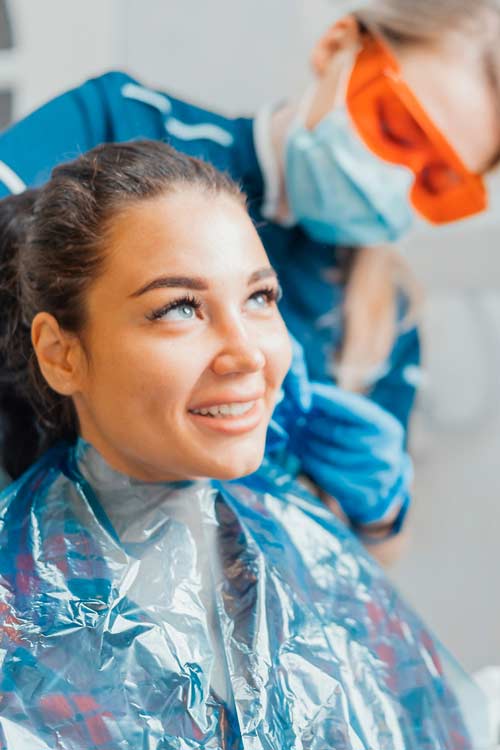 Where can we use disposable capes
Disposable capes are a product commonly used in hairdressing and beauty salons to protect clients' clothing during the application of hair dyes and treatments, as well as during haircuts.
As such, single-use capes are often the main choice of hairdressers and beauticians, as they achieve a higher level of hygiene and save considerable money in the long run. Instead of spending time with washing machines and removing stains from a layer of fabric, with disposable capes, beauticians can forget about this.
They also have the advantage of being easy to store, as they are bagged and folded, so they do not require too much space. It is also advisable to store the product in a dry place at temperatures between 10° and 30°C in its original packaging, where it is not exposed to direct sunlight.
We can find single-ply coatings made of Polyethylene or SMS Polypropylene Non-Woven Fabrics. Polyethylene coatings are waterproof, so they are especially recommended when the treatment requires the use of liquids. However, in any case, disposable capes are recommended both to avoid hair sticking to clients' clothes during a haircut, and to avoid stains from any dye or chemical products.
Different types of capes to choose from
The different types of disposable capes have different characteristics, which can make them more attractive for one or another aesthetic treatment, for example:
Polyethylene Dye Layer folded and bagged, single bag.

It has die-cut loops to tie it around the neck.
Folded and bagged individually.
Waterproof.
Recyclable and customizable.
Approved product.

Polyethylene Dye Coating.

It has die-cut loops to tie it around the neck.
Waterproof.
Recyclable and customizable.
Approved product.

SMS Polypropylene TNT cutting layer.

With neck straps for fastening.
Hypoallergenic.
Made of SMS Polypropylene which gives it extra quality.
Non-sterile.
Recyclable.
Approved product.
Customisable.