¿Quieres contactar con tu asesor comercial?
Temporarily it is not available, but you can send an email
I am a distributor and I want to contact a sales advisor.
---
For use in esthetic centers and spas.
Prevents stains on pants. In combination with gowns it gives more versatility than a coverall.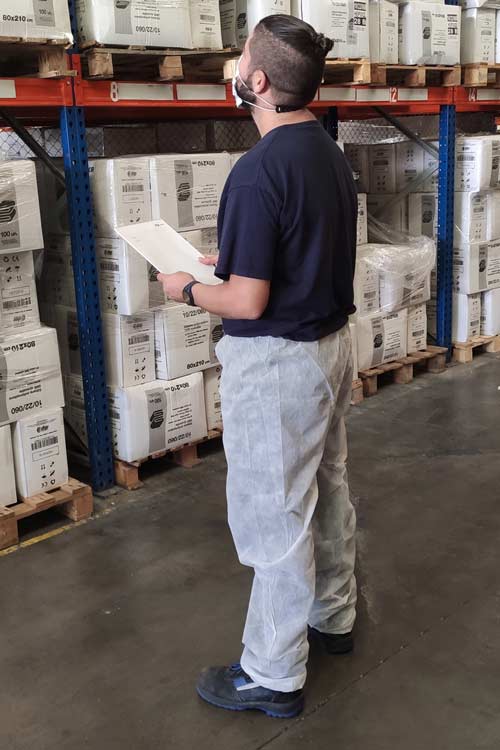 The advantages of wearing disposable trousers at work
Disposable trousers are an ideal alternative for those workplaces where certain standards of both hygiene and safety are required, making them a common choice for use in sectors such as industry.
The material used for these single-use trousers is Polypropylene, which gives them the ability to avoid cross-contamination and stains on the trousers the user wears underneath them and preserve their integrity, being also 100% recyclable.
These are some of its features:
Elastic waistband.
Elastic at the ankle.
Hypoallergenic.
Non-sterile.
As this is a disposable product, it is recommended to use the trousers only once, as prolonged use or more than one use would minimise their effectiveness. In addition, when putting them on, the user must be careful not to stretch the product more than necessary, as there is a risk of tearing the fabric.
Disposable pressotherapy trousers
In the case of single-use pressotherapy trousers, they are used in health, spa and beauty centres to carry out pressotherapy treatments. The aim of these treatments is to achieve lymphatic drainage in people with medical and aesthetic problems, such as alterations in the circulatory system, tired legs, spider veins, oedemas, cellulite and fat accumulation.
The material used in the manufacture of these disposable trousers is Polypropylene Non-Woven Fabric, and it is advisable to use each unit only once, as prolonging its use over time or making more than one use would minimise the functions for which it has been manufactured. Its characteristics are as follows:
Elasticated waist.
Closed foot.
Hypoallergenic.
Non-sterile.
The elastic waistband, although these single-use trousers are one-size-fits-all, allows a better fit to the user's body. In addition, the safety when worn is increased as they are closed at the feet.
Each unit of the product comes in an individual bag, with a minimum unit of sale of 100 units of disposable trousers, making storage easier and more convenient. It is recommended to store the product in a dry place at temperatures between 10° and 30°C in its original packaging, avoiding exposure to direct sunlight.