¿Quieres contactar con tu asesor comercial?
Temporarily it is not available, but you can send an email
I am a distributor and I want to contact a sales advisor.
---
Suitable for use in hotels, beauty centres, spas, spas, spas. Their EVA sole makes them very comfortable.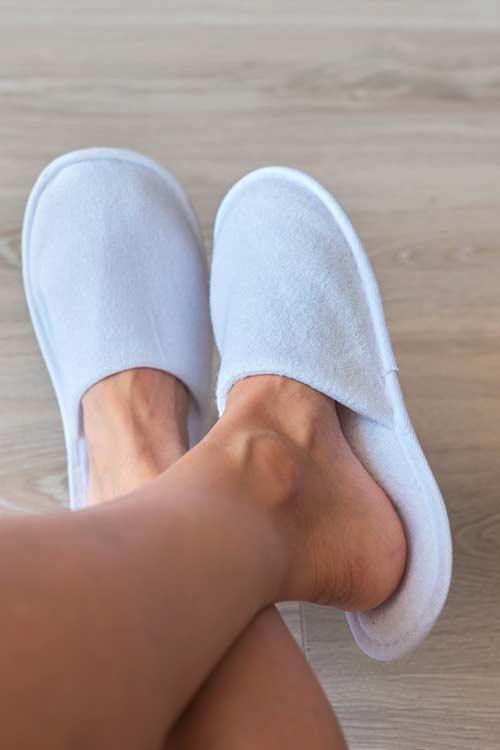 Disposable slippers in our business
The use of disposable slippers is indicated for Hotels, Beauty Centres, Spas, Spas, Hospitals and Tanning Centres, among others. However, they can also be used by individuals, for example, to offer their guests a different type of footwear when they enter the house, thus avoiding that the possible dirt from the street adhered to the shoes spreads inside the house.
The material used to manufacture these single-use slippers is Polypropylene NWF (Non-Woven Fabric), which makes them lightweight and comfortable, one of the reasons why they are so popular in sectors such as beauty, personal care and hairdressing. In addition, they are breathable and hypoallergenic.
Characteristics and materials of the single-use slippers
Among the characteristics of single-use slippers are the following:
There are open and closed slipper models.
They are one-size-fits-all.
White colour.
Hypoallergenic.
They are not sterile.
However, if comfort is sought above all, the disposable slippers in Polypropylene NWF, a material of a single layer of fabric and with a flat, flexible and porous structure, either double or triple layer, with EVA sole are the perfect option, since this sole makes the footwear especially comfortable.
As they are disposable slippers, once the client, patient or guest has finished wearing them, they can simply be disposed of in the appropriate container. This not only makes the business more hygienic, but also saves time and money that would otherwise have been spent on cleaning the shoes.
It should be remembered that disposable slippers are disposable, as the name suggests, and should not be used more than once or used for a prolonged period of time. This is due to the fact that, in doing so, the functions for which they have been manufactured would be minimised.
The fact that single-use shoes are disposable does not mean that they are harmful to the environment, as they are 100% recyclable. So, if they are deposited in the corresponding container, they can be correctly processed to give them a new life.