Subscribe and receive our catalogue by email
Do you want to contact your commercial advisor?
Temporarily it is not available, but you can send an email
Prevents possible hair loss and avoids contamination.
Prevents possible hair loss and avoids contamination.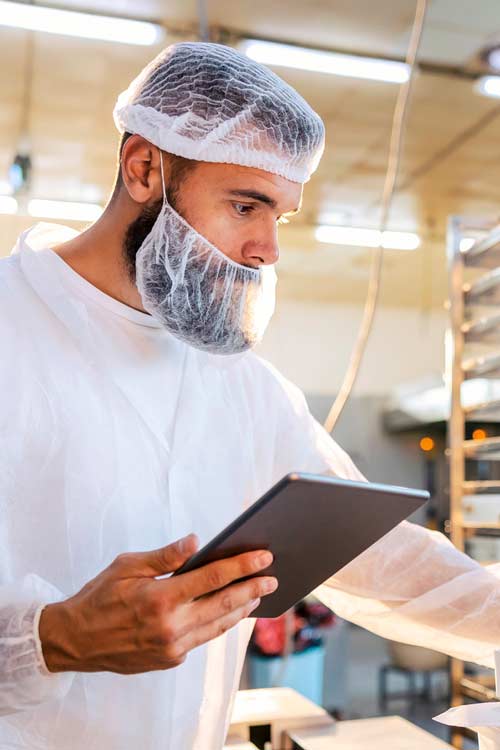 Disposable beard coverings, a worker's greatest ally
Disposable beard covers are an ideal item for men with facial hair where hygiene plays a vital role in the workplace. This single-use accessory to protect the beard is perfect for preventing hair from falling on surfaces, objects or people.
As a disposable product, it is recommended to use the beard cover only once, as prolonged use or more than one use would reduce the functions for which it is intended. However, disposable beard trimmers considerably reduce pollution as the plastics and cardboard are 100% recyclable when disposed of in the appropriate container.
Like other single-use products, which are replaced after use, disposable beard coverings are becoming more and more common in workplaces where exceptional hygiene measures are required. Thus, these beard covers have become a common accessory in:
Pharmaceutical Laboratories
The Food Industry
High Tech Industry
Kitchens
Chemical Industry
Medical Hospital Sectors<li Laboratories
Materials and instructions for use of the beard covers
These single-use disposable beard covers are made of Polypropylene Non-Woven Fabric, a material with a single layer of fabric and a flat, flexible and porous structure. The product features are as follows:
It has elastic all around the perimeter for adjustment.
With elastic bands for fastening to the head.
One size.
Hypoallergenic.
Non-sterile.
Accordion folding and detectable option.
The non-woven polypropylene fabric of which the beard covers are made is flexible, light and easy to fold. However, when fitting the single-use product, special care must be taken not to elongate or stretch the product beyond the limits of the product, as doing so may cause the fabric to tear.
In order to prevent disposable beard coverings from becoming ineffective, it is advisable to use them only once. When storing, it is recommended to store them in a dry place at temperatures between 10ºC and 30ºC in their original packaging, avoiding exposing disposable beard trimmers to direct sunlight.