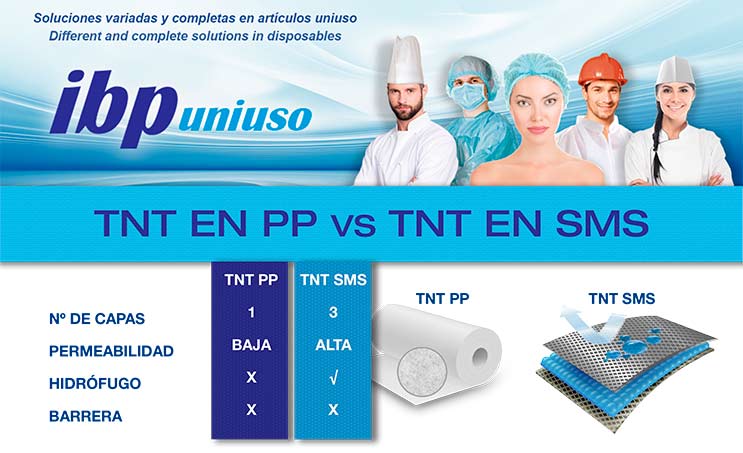 In view of the strong demand for disposable products on the market, there are some doubts about the types of materials that exist and how they are manufactured. It is very important to know the different properties of the materials in order to select the material that best suits the needs of our customer.
In this short article we will know the main differences between PP (Polypropylene) and SMS (Spunbond-Meltblown-Spunbond) Nonwoven Fabrics (hereinafter TNT):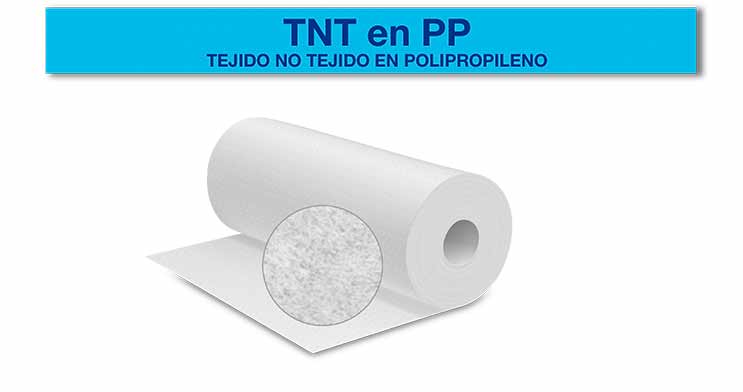 In order to correctly understand both types of manufacturing, we must first know what is the Nonwoven Fabric commonly called NWF (Nonwoven Fabric).
This fabric is a material made from an alloy of fibres and a polymer (polypropylene) that are joined together by heat or pressure, but without being woven, so it is not necessary to convert them into yarn fibres for their manufacture.
In particular, polypropylene NWF is a material with a single woven layer and a flat, flexible and porous structure.
Unlike PP NWF, SMS NWF consists of 3 distinct layers which give the material a series of very particular characteristics:
The first layer is composed of a material called Spunbond. This material is manufactured with a series of melted polymers that are converted into a laminated non-woven product.
The second layer is made of a similar material called Meltblown. Its production results in a series of ultra-fine fabrics that are typically used as a high-grade filter media for air, liquids and particulates. Often this material is combined with different nonwovens to obtain different properties.
The third layer of the SMS is also composed of Spunbond.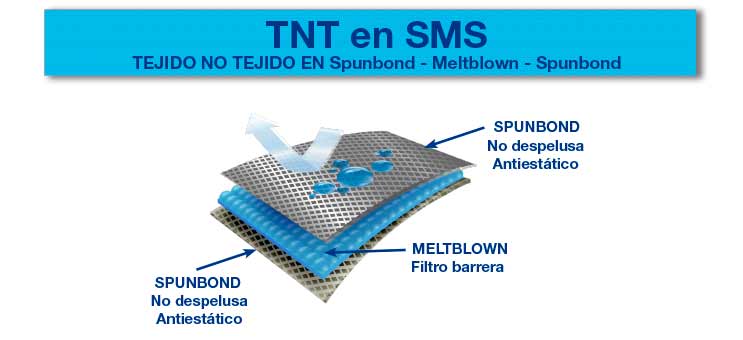 The combination of these 3 layers makes SMS a fully antistatic material, which does not mildew and offers high bacterial filtration thanks to the middle layer (Meltblown). In addition, this material offers high tear resistance and excellent elongation, so that its field of application covers many sectors.